Dark Spot Removal
Diminish the appearance of dark spots with Lumecca IPL in BioDesign Wellness in Tampa.
Dark Spot Removal is available at BioDesign Wellness in Tampa.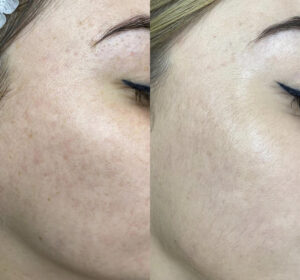 Freckles, age spots, and acne scars are just some things that can make your complexion look uneven. If makeup, serums, and creams aren't doing the trick, consider the dark spot removal with the Lumecca IPL method, which encourages cell turnover without invasive treatments. Dark spot removal improves skin discoloration for men and women with dark spots or hyperpigmentation. 
Hyperpigmentation, or dark spots on the skin, occurs when some areas of the skin produce excessive levels of melanin. Dark spot removal improves the skin's complexion. 
Benefits of Dark Spot Removal in Tampa
Some of the benefits of IPL laser treatment are as follows:
Improves complexion

– Dark spot removal improves the appearance of age spots, rosacea, freckles, and sun damage spots, so your skin looks more even and smooth.

Boosts collagen production

– Dark spot removal uses intermittent pulses of laser light to stimulate collagen production in the skin's deeper layers, resulting in improved texture and firmer skin.

Reduces fine lines and wrinkles

– Dark spot removal minimizes the appearance of fine lines and wrinkles by boosting collagen production. 

Quick, easy, and painless

– Dark spot removal with Lumecca IPL is a quick and relatively painless procedure with no side effects. It can range from 15 to 60 minutes so that you can resume your daily activities after. 

Minimal downtime

– Dark spot removal is a minimally invasive and quick procedure that requires low to no downtime. Resume your daily activities right after the treatment, but avoid direct sun exposure and wear sunscreen.
Get rid of uneven, sun-damaged skin with dark spot removal with Lumecca IPL in Tampa with dark spot removal.
Rejuvenate Your Skin with Dark Spot Removal in Tampa
Get blemish-free skin with dark spot removal in Tampa. BioDesign Wellness Center offers dark spot removal treatment with Lumecca IPL to erase unwanted skin aging and sun damage signs.
BioDesign Wellness provides functional medicine, hormone therapy, and aesthetic services. Our physician-guided approach to your healthcare ensures that only the best (and right-for-you) treatments are offered and provided to help you look and feel your best!
Call us at (813) 445-7770 or complete the form here to learn more about dark spot removal and how it can reverse the signs of skin damage and aging.
Common Questions About Dark Spot Removal in Tampa
- Lumecca is a breakthrough intense pulsed light (IPL) that delivers up to 3X more energy in the 500-600 nm range to improve efficacy for vascular and pigmented lesions. It is optimized for clinicians to treat various skin types and conditions with just a single session.
- You can note an improved skin appearance after the first session of dark spot removal. Multiple sessions provide better results, depending on the severity of skin damage, type of damage, and energy settings.
- Dark spot removal addresses various skin concerns, such as sunspots, rosacea, freckles, and melasma. It can be performed on virtually all body parts, such as the face, neck, legs, and arms.
- Depending on your skin type, cosmetic concerns, and goals for the treatment, our specialists will recommend a treatment plan for you. You can have a dark spot removal treatment every 3 to 4 weeks.