Under Eye Rejuvenation
Minimize unwanted dark circles, hollows, and lines in the eye area with under-eye rejuvenation in BioDesign Wellness in Tampa.
Under Eye Rejuvenation is available at BioDesign Wellness in Tampa.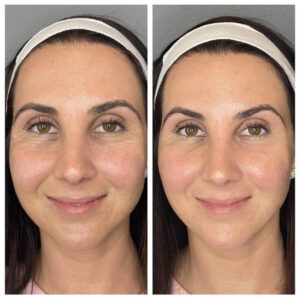 Is your skin showing signs of aging through fine lines, bags, and hollows under your eyes? Are you tired of expensive eye creams that don't deliver on their promises? Under-eye rejuvenation with dermal fillers might be for you.
BioDesign Wellness in Tampa has the latest treatments proven to be safe and effective in adding volume to the area under the eye where it may be sagging or look hollow.
Dermal filler injections provide far better results than eye creams for under-eye rejuvenation.
Benefits of Under Eye Rejuvenation in Tampa
Plumper under-eye

– The use of dermal fillers helps in under-eye rejuvenation by softening the tear trough and masks the appearance of puffiness and eye bags.

Decreases under-eye shadows

– Under-eye rejuvenation prevents a hollowed-out appearance. They also smooth away wrinkles, diffuse dark shadows, and brightens the under-eye area.

Immediate and natural-looking results

– Hyaluronic acid injected into the undereye is light and soft to give you a natural-looking result. Under-eye rejuvenation works almost immediately once the dermal fillers are injected.
Convenient and minimally invasive

– Under-eye rejuvenation with dermal fillers is an excellent alternative to blepharoplasty. There is no surgery involved, so you do not need to worry about complications and infections after.
Minimal downtime –

Under-eye rejuvenation has little to no downtime at all after receiving treatment. Patients don't have to go through surgery or pain and can immediately return to their normal activities!
Under Eye Rejuvenation in Tampa: 
Belotero has a lower density, making it an excellent option for filling much finer lines and wrinkles. The cross-linked hyaluronic acid with variable thicknesses gives smooth and precise results lasting 6 to 12 months.  
RHA is the latest advancement in hyaluronic acid filler technology. By preserving hyaluronic acid's natural structure, it is closer to the natural hyaluronic acid in your skin. RHA dermal fillers have been clinically proven to last up to 15 months.
Restylane uses vegan-friendly hyaluronic acid to provide volume and fullness to the skin. Restylane's hyaluronic acid comes in a clear gel free of animal proteins, with effects lasting up to 12 months.
Rejuvenate Your Appearance with Under Eye Rejuvenation in Tampa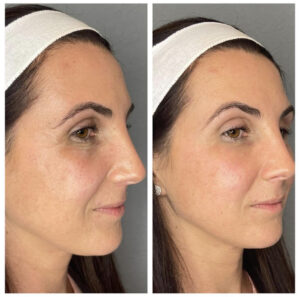 Address fine lines and hollows beneath the eyes with under-eye rejuvenation. Tampa's BioDesign Wellness Center offers a variety of under-eye treatments tailored to your needs and features.
We provide functional medicine, hormone therapy, and aesthetic services. Our physician-guided approach to your healthcare ensures that only the best (and right-for-you) treatments are offered and provided to help you look and feel your best.
Call us at (813) 445-7770 or complete the form here to learn more about under-eye rejuvenation.
Common Questions About Under Eye Rejuvenation in Tampa
- Under-eye rejuvenation with dermal fillers is a safe cosmetic procedure. At BioDesign Wellness, we use FDA-approved dermal fillers that only licensed doctors can perform.
- The average person can expect their under-eye dermal filler results to last from nine months to one year. Results may be felt by some patients even three years after treatment.
- Definitely, yes! Under-eye rejuvenation fills in hollows under the eyes and smooths the skin, reducing wrinkles and shadows. Fillers can minimize wrinkles, fine lines, dark circles, or bags under the eyes.
- Under-eye rejuvenation can help get rid of eye bags, dark circles, and fine lines around the eyes. Since the body metabolizes hyaluronic acid over time, you may need to get them redone every 6 to 15 months.