Conventional medicine and big pharma are losing the battle against type 2 diabetes.
The latest evidence of this comes in the form of a Reuters analysis of provisional death data compiled by the Centers for Disease Control and Prevention (CDC).
The article claims that U.S. diabetes deaths in 2021 exceeded 100,000 for the second straight year. 
Reuters reporters Chad Terhune and Robin Respaut did a fine job highlighting the failure of current treatment protocols in curbing this largely preventable illness:
"The number of Americans with the disease has exploded in recent decades, and their prognosis has worsened, even though spending on new treatments has soared."
What they don't mention in their article is that the new treatments are no better than the old ones. In fact, they're worse. They're more expensive, and they have more side effects. In addition, a pharmaceutical industry campaign for aggressive treatment has led to an epidemic of potentially lethal incidents of low blood sugar (hypoglycemia).
As Albert Einstein is widely credited as having said, "The definition of insanity is doing the same thing over and over again but expecting different results." Public health organizations, big pharma, and conventional medicine practitioners have been following the same game plan for decades, expecting to win the battle against type 2 diabetes. And they keep losing.
Obviously, we need a different game plan.
What Is Type 2 Diabetes?
Diabetes is a chronic (long-term) health condition that affects the body's ability to turn food into energy.
When the carbohydrates you eat are broken down into sugar (glucose) and released into the bloodstream, that increase in glucose signals the pancreas to release insulin, which enables the sugar to enter your body's cells for use as energy.
If you have diabetes, your pancreas isn't making enough insulin, or your body isn't using the insulin as it should. As a result, too much sugar stays in your bloodstream and can cause serious health problems, including heart disease, vision loss, kidney disease, and death.
Learn More Here: The Best Way to Treat Candida Yeast Overgrowth in Tampa FL
There are two types of diabetes:
Type 1 diabetes is a chronic condition in which the pancreas produces little or no insulin.

Various factors may cause or contribute to type 1 diabetes, including genetics, viral infections, and autoimmunity (the immune system attacks the pancreas).

Type 2 diabetes occurs when cells don't respond normally to insulin. The pancreas makes more insulin until it reaches a point where it can't keep up.

Blood sugar rises as a result. Type 2 accounts for 90–95 percent of all cases of diabetes and generally develops in people over the age of 45. However, we're seeing it develop in more and more children, teens, and young adults.
Diabetes — A Terrible Disease
What's worse than the death toll associated with diabetes is the suffering. If you or a loved one has diabetes, you're already too familiar with the pain and agony it causes. I watched my father and grandfather suffer from infected wounds that didn't heal, depression, unrelenting fatigue, and more.
Families suffer as their loved one's quality of life goes down the tubes, and medical bills for ineffective treatments destroy the family's finances. 
In my dad's case, the medications were not only ineffective but also deadly — likely the cause of his colon cancer, which eventually spread to his liver.
There was no previous family history of cancer, and studies have linked diabetes medications to cancer (see "Diabetes, antihyperglycemic medications and cancer risk: smoke or fire?"). Whether diabetes or the medication used to treat it led to his early death is a moot point — safer and more effective preventive and treatment options are available.
What's insane is that we put up with all this unnecessary suffering and death while waiting for a miracle cure that may never be discovered, even when we know what needs to be done to prevent, stop, and in many cases, reverse the course of the disease.
Effective Prevention and Treatment: A Common-Sense Approach to Diabetes
Type 2 diabetes is a lifestyle disease. It's caused mostly by the standard American diet (SAD), which is extremely high in carbohydrates, processed foods, sugary drinks, sweets, and fried foods and low in vegetables, fruits, nuts, seeds, whole grains, fish, and pasture-raised animal products.
Treating a lifestyle disease with medications and little to no lifestyle intervention is illogical, and it's the main reason that mainstream approaches to prevention and treatment are failing and people are suffering and dying unnecessarily.
The medical community and the general population need to wake up to the fact that there is no miracle cure. To alleviate the suffering and death, we need to get back to the basics — nutrition and exercise.
Multiple large-scale studies reveal the not-so-secret secret to stemming the tide of diabetes and reversing its course. Here's a link to just one of those studies:
Coaching Is Key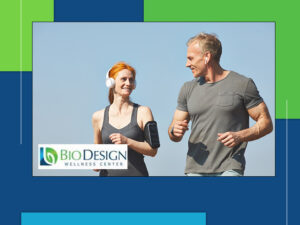 More than anything, people with diabetes, or anyone who has an elevated risk of developing diabetes or prediabetes, needs coaching.
At BioDesign Wellness, we offer doctor-supervised coaching programs that can be implemented over a nine-month period. 
Our clinical findings show clearly that people with diabetes who follow the nine-month program of lifestyle changes, dietary modification, and nutrient replenishment with supplements and hormones succeed in lowering their blood glucose levels.
Reductions in Hemoglobin A1c can be as dramatic as three or four points, from 9.0 to 6.0 or even 5.0. If you have diabetes or prediabetes, or if you'd simply like to reduce your risk for developing type 2 diabetes down the road, we can help. 
The

first step

is to realize that medications alone can't solve the problem and may cause more harm than good. 

The

second step

is to be receptive to coaching and to make some lifestyle changes. 

The

third step

is to contact us for an evaluation and to work with you to create a personalized treatment protocol — an effective game plan that's doable for you. 
With the right game plan, you and your loved ones can win the battle against diabetes and live long and healthy lives.
= = = = = = = = = = =
About the Author: Dr. Matt Lewis, D.C., DACBN, CFMP®, specializes in diagnosing and treating the underlying causes of the symptoms related to chronic and unexplained illness through nutrition, lifestyle, chiropractic, and other natural approaches to whole-health healing in Tampa, Fla. Dr. Lewis has 20 years of experience practicing nutritional and holistic medicine. He earned his B.S. in Biology from Shenandoah University, his Doctorate in Chiropractic from Life University, his Diplomate status in Clinical Nutrition from the American Clinical Board of Nutrition, his CFMP® from Functional Medicine University, and his certification as a Digestive Health Specialist (DHS) through the Food Enzyme Institute. Dr. Lewis' passion for health and wellness stems from his own personal experience. With a family history of autoimmune conditions and diabetes, and his own lab tests showing his genetic susceptibility to Hashimoto's thyroiditis (autoimmune thyroid), he has learned how to restore his own health and vigor to prevent the onset of these and other illnesses and live an incredibly active life. Through this process, he acquired a deeper understanding of health and wellness, which he now offers his patients in Tampa.
Disclaimer: The information in this blog post about diabetes is provided for general informational purposes only and may not reflect current medical thinking or practices. No information contained in this post should be construed as medical advice from the medical staff at BioDesign Wellness Center, Inc., nor is this post intended to be a substitute for medical counsel on any subject matter. No reader of this post should act or refrain from acting on the basis of any information included in, or accessible through, this post without seeking the appropriate medical advice on the particular facts and circumstances at issue from a licensed medical professional in the recipient's state, country or other appropriate licensing jurisdiction.